The Advantages of Turnkey Brewing Systems

The brewing industry is a complex one and the competition is global. The process of implementing a turnkey brewery system is complex. You need to determine your production capacity, develop an efficient brewing line, and select the right equipment to give you the competitive edge. Fortunately, there are many turnkey breweries that can meet all of these requirements. Read on to learn more about the various options. If you are considering a turnkey brewery, here are some of the top advantages:
A turnkey brewery project is an ideal solution for those who want to start brewing but don't have the time or the expertise to do so. With turnkey brewing systems, everything from the equipment to the brewery is available through a single supplier. You can also opt for the project evaluation and cost-efficient analysis, market research, and equipment construction. ZYBREW also calculates the production of the product to ensure that it runs efficiently under the most economical conditions.
Turnkey brew systems include everything you need to start brewing. The systems come with all the necessary components, including pumps, hoses, and controls. The systems are also built with a modular design that allows for future expansion. For example, a boiler system can be upgraded to a larger one if you plan to sell beer and expand the brewery. A glycol system can be added in the future to handle additional volume, and an automated wort chiller can save you money and time.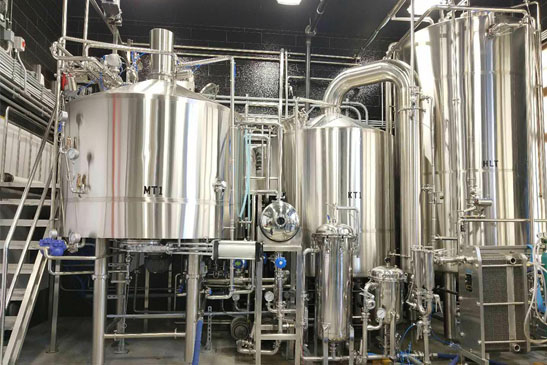 What You Need For a Turnkey Brewing System
A turnkey brewery is a complete production line that includes all of the components necessary for brewing beer, from the malt mill to the dispensing equipment and the master series. Regardless of whether you are a beginner or a veteran brewer, you will need the following equipment to succeed. These items are essential to the success of your business. A turnkey brewery will include everything you need to get started, including the necessary piping and fittings for a successful brewing operation.
In addition to the brewing equipment, you will also need to locate a brewery location and select the location for the brewing process. There are several different categories of equipment that are sold as turnkey, but you should know that you should look for a specific brand when starting a new business. The term "turnkey" comes from the word "complete." There are many options available to you, and you will want to make the right choice for your business.
There are many different types of brewing equipment you can choose from. A typical 1000-liter brewhouse will include a malt miller that will mill the malt in 30 minutes or less. A flexible auger will transport the malt to the mash tank. A 4 vessel brewhouse will include a mash/lauter tun, brew kettle, and whirlpool tank with electric or steam heating.
ZYBREW can supply you with a turnkey brewery that has everything you need for brewing beer. ZYBREW's turnkey brewing solutions include engineering studies and commissioning, allowing you to make the most of your new investment without worrying about what might break down. As always, we are focused on quality throughout every stage of your project. You won't have to worry about any technical problems with our equipment.
A turnkey brewery can be a great way to start brewing beer, but you might need more equipment than just a wort brewer. A craft brewery is designed for larger restaurants or industrial brewing businesses, and retail sales. The main part of a craft brewery is a stainless steel wort brew machine, with a simple industrial design. You can customize your new craft brewery to meet your needs. There are many benefits to having a turnkey brewery.
ZYBREW is a global brewing technology and equipment manufacturer. Our brewhouses are renowned for their high performance and eye-catching design. By purchasing a turnkey brewery, you will save money and time. With this equipment, you'll be able to focus on growing your business and improving your community's quality of life. There are a few things you need to consider before purchasing a turnkey brewery.
A micro turnkey brewery is a three-vessel, 1000-liter brewhouse that includes a milling system. It also includes a Lauter tank and auger option. The most advanced features of a turnkey brewery include a 10-BBL brewhouse with an automated pump control. A brewing company should have no trouble finding a vendor with a CE certificate for their equipment. After all, a certified machine means that it is safe to use.