In terms of fermentation method, craft beer is divided into top fermentation and bottom fermentation. The difference lies in the fact that the yeast is fermented on top of the fermenter and the yeast is fermented on the bottom of the fermenter.

The difference between top fermentation and bottom fermentation lies in the temperature and fermentation time of craft beer. The temperature of top fermentation is higher at 10-20 degrees and the fermentation time is longer at 7-20 days, while the temperature of bottom fermentation is lower at 10 degrees or less and the fermentation time is shorter at 3-7 days.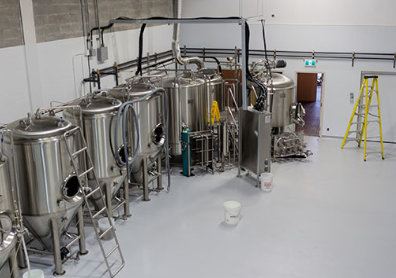 1. Simple and Convenient Operation
The fermentation process in craft beer equipment is mainly 10-20 degrees fermentation. The fermentation time is about 7-20 days, and some German beer estates beer estates have a fermentation period of 28 days, so that the beer is fermented slowly at low temperatures, with softer taste, longer lasting aroma and richer foam. Home-brewed beer is a high-grade beer, often sold in some high-end star hotels. Intelligent operation is simple, easy and convenient.
The craft beer equipment is a kind of equipment that integrates intelligent automatic operation system. The user only needs to prepare the quality of the wine in the barrel and program it accordingly to complete the operation of the wine conveniently. Because it is an intelligent operation, it can properly control different environments and can ensure that the quality of the whole wine reaches a high level.
2. Compact Size and Easy to Store
Craft beer equipment can welcome the selection of each entrepreneur in the market, also because the whole equipment in line with the needs of small businesses on a smaller scale, can help entrepreneurs store not intentionally seeking to install large free space, thus, not only save space, and reduce the space of the user management equipment can improve the seed function.
3. Brewing Taste Fragrant and Pure
Craft beer equipment is the manufacturer after a long time a lot of experiments to develop successful equipment, can provide users with convenient brewing, to ensure that the craft beer mellow taste. This is also the reason why users pick beer brewing equipment.
Note: Sterilize Your Equipment
You need to do one very important thing first - even assuming you have an all-in-one kit with all the ingredients for brewing beer, you can still start brewing beer for the first time. Before you do anything else, you need to thoroughly clean and sanitize all of your brewing equipment. It may be brand new, but even the smallest amount of contamination can mean spoiled beer - the last thing you want to happen when you first venture into the exciting world of home brewing.
Yucheng Zeyu Machinery Co., LTD, founded in 2013, is the one of the professional and reliable micro brewery equipment supplier. If you want to know more information about craft beer, please contact us. We will provide professional answers.