As a Medium Craft Brewery, share with you.

In view of the customary bounce including innovation, there is just half Alpha corrosive being settled in wort and isomerized to Isoalphaic corrosive, however after wort cooling, maturation, cold maturing and separating and so forth, the last jump usage is just 20~30%.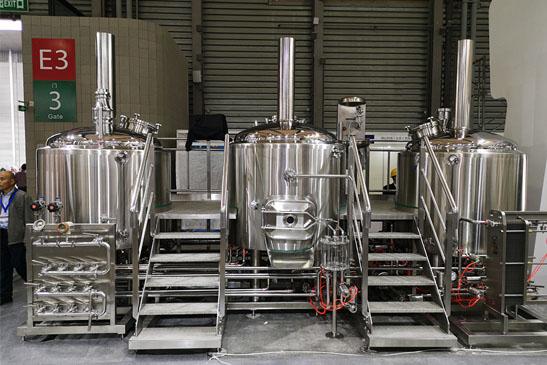 Pilot Brewery Equipment
The small scale bottling works all would like to improve the jump usage with certain strategies, for lessening the bounce measurements and lower the creation cost. Here are a few techniques that could be utilized for improving the usage as beneath:
(1) Reasonable hop count addition method
In principle, as the percentage of hops added decreases, the number of repeated additions increases, and the time of addition increases, the Hop Utilization should be higher. However, if added too early in the first 1-2 times, the polyphenols in hops will be combined with the protein in the wort, which is not conducive to the removal of polyphenols in the wort. You know that polyphenols are the main component of turbid substances, so it is best not to add these two too early, about 10 minutes and 30 minutes after boiling is best. The last hop is added to enhance the aroma of hops. The utilization rate of α-acid is very low, and the amount added is less. A high-quality hop aroma is preferred.
(2) Control higher boiling strength
When the boiling strength is high, it usually has a strong kink effect. This facilitates the use of hops. Therefore, by setting the steam heater, the structure of the kettle and the heating steam pressure, the boiling strength can be controlled between 10% and 12%.
(3) Increase the PH value appropriately
As the pH increases, solubilities and isomerisms increase accordingly. The wort pH is usually best controlled between 5.2-5.6, and not more than 5.8.
(4) Reasonable boiling time
Generally, the boiling time of wort cannot exceed 90 minutes. If the boiling strength is high and the protein solidifies well, the boiling time can be controlled within 60 ~ 75 minutes. This saves both energy and time. It is also possible to reduce further conversion of isomers.
(5) Use of hop products
Proper use of hop granules and hop extracts can help disperse and isomerize the active ingredients.
Our company also has Pilot Brewery Equipment on sale, welcome to consult.