A mini fermenter, also known as a small fermenter or compact fermenter, is a specialized vessel for fermenting beer on a small scale. It is typically designed for home brewing, experimentation, or small-batch production.

Benefits of using a mini fermenter
Space Efficiency
Mini fermenters are designed to be compact and space-saving. They take up less room compared to larger fermenters, making them ideal for those with limited space in their homes or small brewing setups. They can easily fit on countertops, in small refrigerators, or in other confined areas.
Cost-Effective
Mini fermenters are often more affordable compared to larger fermenters, making them a cost-effective option for home brewers and enthusiasts on a budget. They typically require less investment in equipment, making fermentation more accessible to a wider range of individuals.
Easy Handling and Portability
Mini fermenters are lightweight and easy to handle, making them convenient for transportation and storage. Their compact size allows for effortless movement, whether you need to transport them to a different location or store them when not in use.
Ideal for Small Batches
If you prefer experimenting with different recipes or brewing smaller quantities of beer, wine, kombucha, or other fermented beverages, a mini fermenter is a perfect choice. It allows you to brew in smaller batches, which can be advantageous for those who enjoy variety or want to test out new flavors without committing to large quantities.
Faster Fermentation
Due to their smaller volume, mini fermenters tend to ferment more quickly compared to larger vessels. With less liquid to ferment, the yeast or bacteria can interact with the sugars and produce the desired flavors and alcohol content more efficiently. This can be beneficial when you want to enjoy your fermented beverages sooner rather than later.
Better Control and Experimentation
Mini fermenters offer greater control over the fermentation process. With smaller volumes, it is easier to maintain precise temperature, monitor fermentation progress, and make adjustments if needed. This level of control allows for more experimentation, enabling you to fine-tune recipes, test different yeast strains, or explore various fermentation techniques.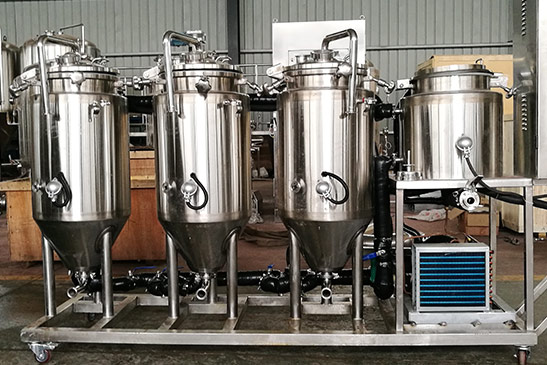 Reduced Risk of Contamination
Mini fermenters are typically equipped with airlocks or other sealing mechanisms that help create a more controlled and sanitary fermentation environment. This reduces the risk of contamination from external factors, such as airborne bacteria or wild yeasts, ensuring a cleaner and more consistent fermentation process.
Versatility
Mini fermenters can be used for various types of fermentation projects, including brewing beer, making wine, fermenting kombucha, or crafting other fermented foods and beverages. Their versatility makes them suitable for a wide range of fermentation enthusiasts, from home brewers to fermenting hobbyists.
Learning and Skill Development
Using a mini fermenter provides an excellent opportunity for beginners to learn about fermentation and develop their brewing skills. The smaller scale allows for easier observation and understanding of the fermentation process, making it a valuable educational tool for those starting their journey in the world of fermentation.
Reduced Waste
With mini fermenters, you can produce smaller batches, minimizing the potential for wasted ingredients. This can be particularly advantageous when experimenting with new recipes or ingredients that you may not want to commit to in large quantities.
Overall, mini fermenters offer practicality, affordability, and flexibility for those interested in home brewing and small-scale fermentation. They provide a convenient way to explore fermentation projects with greater control and efficiency, making them an appealing choice for fermentation enthusiasts of all levels.
Are you interested in learning more about mini fermenters for sale and how they can benefit you? Contact us today to secure an expert consultation!