For small-scale brewing equipment, there are brewing equipment produced by well-known brands on the market, and small brewing equipment produced by small workshops. So what do we need to pay attention to in order to select good small-scale brewing equipment? Distillery Equipment Supplier is here to share some tips.
First, look at the material:
More and more attention is being paid to today's food safety, from the previous wooden brewing equipment to the bronze material, aluminum material and later to the 304 stainless steel material. No matter which material, we must first consider food safety, which is the basis of business. In recent years, a food grade 304 stainless steel has been introduced. In terms of materials, we prefer food grade 304 stainless steel.
Second, observe the tightness:
For winemaking, from ancient times to modern times, there are wines that are not afraid of the alley. But do you know that the scent of the wine is caused by the volatilization of the hard-working wine, so we need to choose the equipment to be very tight, in order to reduce the loss of alcohol.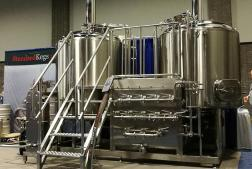 Third, the cooling capacity of wine equipment:
Everyone knows that the steam steamed out by the hard work needs to be cooled to get liquid wine. If the cooling function of the equipment is not good, then the hard-boiled wine can't be lowered. Do we have to drink steam? The answer is of course NO, so it is also important to pay attention to cooling. Fourth, the volume of brewing equipment
For brewing equipment, there are small-scale brewing equipment, large-scale brewing equipment, small and medium-sized brewing equipment, medium and large-scale brewing equipment, and so on. If it is a winery, it needs to be selected according to the site, demand and efficiency. Our company offers a wide range of equipment such as 5BBL Brew House and 10BBL Brew House.
We briefly explained the key points of how to distinguish the quality of brewing equipment through the above four points. Through the above four points, whether you know the brewing equipment, whether you choose the brewing equipment, you can change from a layman to an expert after reading it, and easily choose high-quality equipment.