As a Beer Winery Equipment Manufacturer, share with you.
For brewing beer, production cost is also one of the factors that affect investment decisions. Production costs include raw materials, labor, construction, energy, and promotion costs. Here we only introduce the cost of saving yeast. Yeast is an ingredient.
Regarding yeast, Porpogation and Recycling are effective ways to save yeast costs.
But this is not suitable for all breweries.
-Certain beer yeasts are suitable for breeding yeast;
-Some are suitable for yeast recovery;
-Some are suitable for using both methods at the same time;
-But some breweries are not suitable for these two methods, and can seek other ways to save yeast costs. To
Which method is suitable (or not suitable) for the brewery depends on the following factors: the beer production and sales cycle.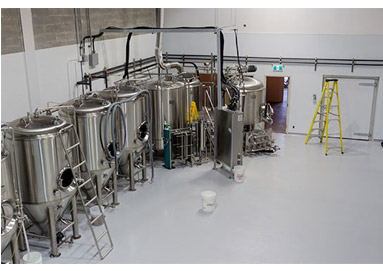 Small Craft Brewery
This is not just a simple statement:
Yes, if you save costs, you can breed yeast.
If cost can be saved, yeast can be recovered.
If the production cycle does not match the sales cycle, the extra yeast tank may be useless to you, just put it in the corner.
For example, when it is time to use the reproduced yeast/recovered yeast, but the fermenter is still full, then the yeast cannot be used at the optimal time and still needs to stay in the yeast tank for a longer time.
This means "the timetable between yeast reuse and fermentation process does not match."
For some breweries, the cost of yeast can be saved by designing a unique operating schedule, which allows yeast to be fully utilized in a smooth operation cycle.
There are two issues to consider to know which one is best for you:
For example, if you own a 1000L brewery with 6x2000L fermentation tanks.
1 How long will you mash and fill the 6x2000L fermenter in 2 to 3 weeks?
For example, do you plan to fill all 6x2000L fermentation tanks in the first 6 days?
This means: mashing 2 times a day, and then mashing for 6 consecutive days to fill all 6 fermenters within 6 days.
Another timeline is:
Fill 3 fermentation tanks in the first week, and fill the other 3 fermentation tanks in the second week.
This means: mash it every two days, don't mash it continuously-mash it on Monday, Wednesday, Friday, and fill up 3 fermenters in the first week.
2. How long do you plan to empty the fermentation tank?
This means: when the fermenter beer is mature and ready for sale, how long do you sell it to empty the fermenter?
With these two pieces of information, you can list the schedule. Then you will know whether you should propagate yeast, recycle yeast or change the operating schedule.
Our company also has Small Craft Brewery on sale, welcome to contact us.