A Clean-In-Place (CIP) system is a combination of mechanical components and equipment used to combine water, chemicals and heat to form a cleaning solution. These chemical cleaning solutions are pumped or circulated by the CIP system through other systems or equipment to clean the brewery equipment.
A good cleaning-in-place (CIP) system starts with good design and requires creating a customized and economical solution for your CIP system needs. But remember, an effective CIP system is not a one-size-fits-all solution. You need to custom design a CIP system that contains the necessary information about your brewery's brewing process and brewing requirements. This ensures that your clean-in-place system is designed to meet your cleaning requirements.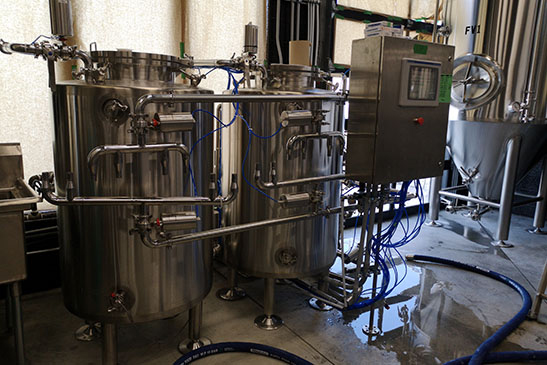 Fixed CIP System
Why is a CIP system important for breweries?
CIP systems are an important part of ensuring food safety in your brewery. In beer production, successful cleaning prevents potential contamination and products that do not meet quality standards. the correct operation of a CIP system is a safe barrier to the flow of food and cleaning chemicals and can reduce downtime of beer equipment. In addition, cleaning must be done safely because it involves very strong chemicals that can harm people and brewing equipment. Finally, CIP systems should use minimal water and cleaning agents and maximize reuse of resources while minimizing environmental impact.
Foremost among these is the need to adequately clean and sanitize brewery equipment and other facilities to produce beer that is free of physical, allergic, chemical and microbiological hazards. It is also important to understand the reasons why breweries must be cleaned, including
► To meet specific customer requirements.
► To avoid pests.
► Reducing the risk of beer hazards - food poisoning and foreign body contamination.
► To comply with local and international regulations.
► Meeting Global Food Safety Standards (GFSI) requirements.
► Maintain positive audit and inspection results.
► Achieve maximum plant productivity.
► Present a hygienic visual image.
► Provide safe working conditions for employees, contractors and visitors.
► Maintain product shelf life.
A CIP system is an essential piece of equipment for a brewery. If your brewery needs a CIP system, contact the experts at ZYBREW. We offer you a complete turnkey solution including design, manufacturing, installation and technical support to ensure you get the CIP system you need for your sanitary process application.
Design Considerations for CIP Systems
When designing a CIP system, there are several design requirements to keep in mind to ensure that the system will perform exactly as intended. Some key design considerations include.
► Space requirements: Local codes and maintenance specifications dictate the space required for portable and stationary CIP systems.
► Capacity: CIP systems must be sized large enough to provide the flow and pressure required for residue removal, reduced cycle time and effective flushing.
► Utility: The treatment brewery equipment must have the utility required to run the CIP system.
► Temperature: If proteins are present in the treatment system, pre-wash operations should be conducted at ambient temperature to ensure that as much protein as possible is removed without denaturing the protein.
► Drainage Requirements: Proper drainage is critical to the cleaning operation. In addition, drainage facilities must be able to handle high discharge temperatures.
► Processing time: The time required to run the CIP system determines how many individual units are required to meet the demand.
► Residues: Characterizing residues through cleaning studies and identifying relevant product contact surfaces aids in parameter development. Certain residues may require different cleaning solutions, concentrations and temperatures to clean properly. This analysis can help organize circuits by common cleaning parameters.
► Solution concentration and type: CIP systems use different cleaning solutions and concentrations for different purposes. For example, caustic soda (also known as caustic soda, sodium hydroxide, or NaOH) is used as a cleaning solution in most CIP system cycles in concentrations ranging from 0.5 to 2.0%. Nitric acid is typically used for descaling and pH stabilization in alkaline wash cycles at a recommended concentration of 0.5%. In addition, hypochlorite solutions are commonly used as disinfectants.
► Equipment surface characteristics: Internal finishing of CIP systems can help or hinder the accumulation of proteins and other contaminants within the system. For example, mechanical polishing operations can produce a rougher surface than electropolishing operations, resulting in a higher risk of bacterial adhesion to the material. When selecting a surface finish, it is important to choose one that minimizes the mechanical and chemical damage suffered during the cleaning operation.
► Cleaning process and schedule: Knowing the experimental conditions of the equipment provides insight into the process hold or transfer time. It may be necessary to connect transfer lines and tanks and form CIP loops to meet rapid turnaround and cleaning requirements.
► Transition Criteria: Defining transition criteria provides a way to control key cleaning cycle parameters. For example, chemical cleaning duration, minimum temperature set points, and concentration targets can all be set as needed prior to transitioning to the next step in the cleaning sequence.
► Cleaning Sequence: Typically, the cleaning cycle should begin with a water rinse, followed by a detergent wash and a detergent post-rinse.
Integration Considerations for CIP Systems
In addition to dealing with proper design and construction, proper integration is important to achieve the best cleaning performance from a CIP system. While a CIP system can be custom designed and built to meet the needs of the brewery, without proper integration, it may not perform as expected. Therefore, it is necessary to consider how the CIP system will be integrated from the planning process.
Some factors to keep in mind include
► Filters: Filters in a CIP system are often difficult to discharge. Therefore, they need to be removed periodically for cleaning or replacement operations prior to sterilization.
► Piping: Breweries need to consider the size and length of the piping, as the major pressure drop will reduce flow and turbulence within the piping. CIP systems should be connected using welding, as threads or flanges can promote the accumulation of contaminants in the system. In addition, return lines should be sloped as much as possible to promote gravity drainage and prevent the formation of cavities, which will prevent clean solutions from reaching all surfaces.
► CIP Chute: The CIP chute contains the tanks required for flushing and chemical solutions.
► Automated System Design: The effective cleaning characteristics of the automated design of the CIP system also need to be reviewed. The cycle time to develop and supplement a specific automated control system can significantly reduce the long-term operating costs of a brewery.
► Accumulation: All system components should exhibit free-draining characteristics to avoid the "bathtub ring" effect.
Get a turnkey solution for your brewery equipment
If you are planning to open or expand a brewery, you can contact ZYBREW directly and our engineers will design and build beer equipment according to your brewing process. Of course, we will also provide you with a complete turnkey solution. In addition, if you are planning to expand your brewery, we will provide you with a customized solution.