What Is A Fermentation Unitank In A Craft Beer Brewery?
Today, in modern breweries, the first fermentation and maturation can take place in the same vessel which is called fermentation unitank.

Unitank combines the features of fermenters and bright tanks, allowing brewers to ferment or carbonate their beer in one container. This is an ideal solution for brewers who require a high level of flexibility in their breweries.

Fermenters are used to store wort and ferment it into beer. During the fermentation process for brewing beer, yeast convert sugar into alcohol. The key factor in the fermentation process is the amount of oxygen. Without oxygen, the yeast would convert more sugar into alcohol. If there is a lot of oxygen, this will cause the yeast to multiply in the first place. This is why fermentation needs to take place in a confined space.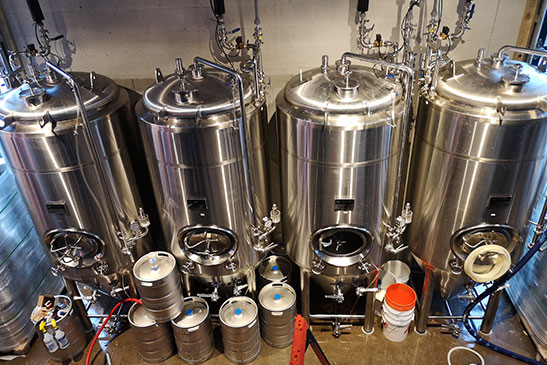 Unitank
So what's the difference between a fermenter and a Unitank?
It reduce the need to move the beer in the process. This has huge advantages in terms of beer quality, processing time, space usage and production economy.

The requirement of automation needed in a large modern brewery is easier and cheaper than the traditional tank design.

However, the main difference between a unit tank and a modern fermenter is whether it has carbon rods or not. Unit-tank fermented and matured beer with carbon rods. If you have a single cylinder, then you don't need to buy a brighter tank. Fermenters without carbon rods can only ferment beer, so buy the right number of bright tanks.

Still have a question? We can help with your final decision. If you are looking for a turnkey solution for craft beer brewing system, please contact us. We are looking forward to working with you. Send an email now: info@zybrew.beer